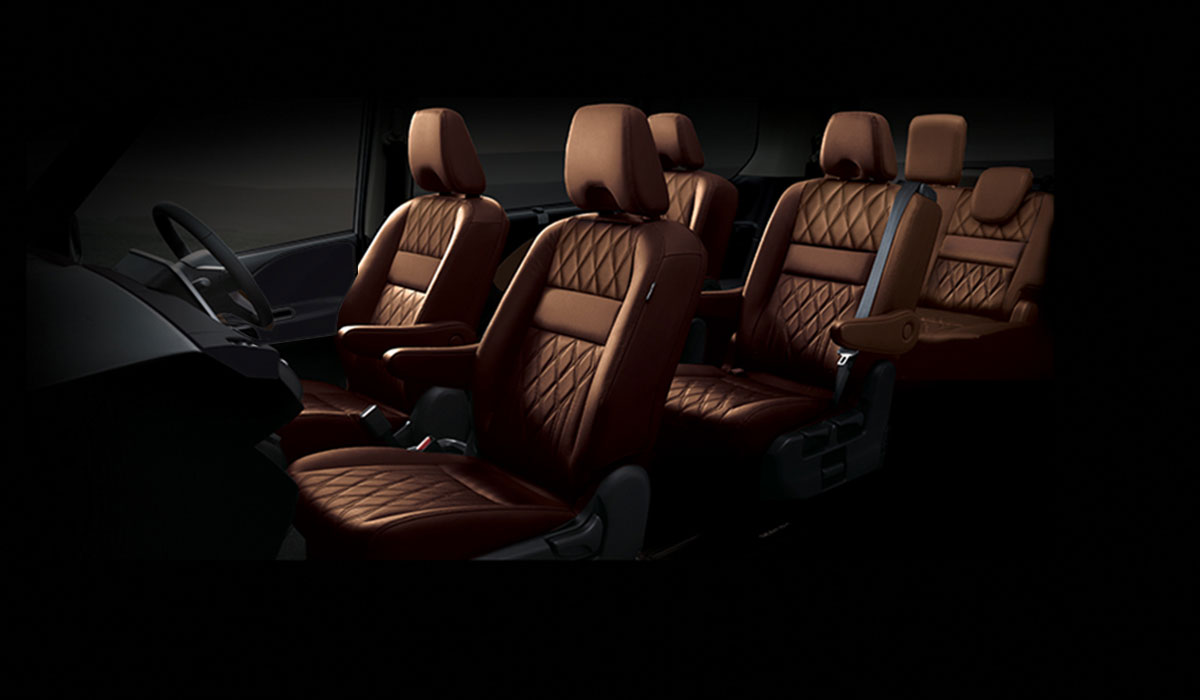 PREMIUM HIGHWAY STAR PACKAGE

RM 14,000

"TECH-ON" TRAY MAT*

11.6" ROOF-MOUNTED MONITOR*

16" ALLOY RIMS*

9" ADVANCED TOUCHSCREEN INFOTAINMENT WITH APPLE CARPLAY™ AND ANDROID AUTO™*

COMBINATION LEATHER SEAT (BROWN/BLACK QUILTED NAPPA LEATHER)*

LED ROOM LAMP*

V-KOOL™ Elite Security Tinting*

DOOR VISOR*

DUAL CHANNEL DRIVING VIDEO RECORDER (DVR)*

TRUNK TRAY*

CHROME PLATED FRONT BUMPER GARNISH

CHROME PLATED REAR BUMPER GARNISH

COMPLETE J IMPUL PREMIUM HIGHWAY STAR PACKAGE

RM 18,000

CHROME PLATED FRONT BUMPER GARNISH

CHROME PLATED REAR BUMPER GARNISH

18" IMPUL MILLENNIUM WHEELS

PREMIUM 2-TONE BURGUNDY & BLACK COMBINATION NAPPA LEATHER SEATS

DOOR VISOR*

DUAL CHANNEL DRIVING VIDEO RECORDER (DVR)*

LED ROOM LAMP*

9" ADVANCED TOUCHSCREEN INFOTAINMENT WITH APPLE CARPLAY™ AND ANDROID AUTO™*

11.6" ROOF-MOUNTED MONITOR*

V-KOOL™ Elite Security Tinting*

"TECH-ON" TRAY MAT*

TRUNK TRAY*
INDIVIDUAL PURCHASE PRICES
LEATHERETTE SEATS*

RM 2,800

IN-CAR PORTABLE COOLER BOX**

RM 488

DOOR HANDLE PROTECTOR (4 PCS)**

RM 120

DOOR HANDLE PROTECTORS (2 PCS)**

RM 60

SINGLE CHANNEL (FRONT) DRIVING VIDEO RECORDER (DVR)*

RM 1,000

TRUNK TRAY*

RM 150

LED ROOM LAMP*

RM 270

DOOR VISOR*

RM 480

11.6" ROOF-MOUNTED MONITOR*

RM 700

"TECH-ON" TRAY MAT*

RM 200

ICE COOL TINTING*

RM 2,800

V-KOOL™ Elite Security Tinting*

RM 4,800

16" ALLOY RIMS*

RM 2,800

18″ IMPUL MILLENNIUM ALLOY WHEELS

(For Premium Highway Star only)

RM 3,500
*Available for Highway Star variant only. **Available for Highway Star and Premium Highway Star variants.
Terms and conditions:
– Prices shown are inclusive of installation and 10% Sales Tax.
– The specifications are subject to change without prior notice.
– All accessories come with a 3-year/100,000km warranty, whichever comes first.
– Accessories are subject to availability. Other terms and conditions apply.