Kuala Lumpur, 28 July 2023– Attention gym-goers and fitness enthusiasts! Brace yourselves for the ultimate functional fitness race, as the highly anticipated REDLINE Fitness Games Powered by NISSAN takes Malaysia by storm with its unprecedented, first-of-its-kind large-scale debut!
The excitement reached its peak at the launch event held at the Curve as REDLINE Fitness Games Powered by NISSAN announced an exciting grand lucky draw prize – a brand new NISSAN Almera!
Taking place on 23 and 24 September 2023 at the Mines International Exhibition and Convention Centre (MIECC), this groundbreaking event is set to be the largest fitness competition ever held in the country. With the aim of testing and measuring fitness levels, participants can expect an adrenaline-pumping and unforgettable experience that will push their limits.
"We are extremely excited to host the inaugural REDLINE Fitness Games Powered by NISSAN in Malaysia, where local and international fitness enthusiasts will converge. This event goes beyond just being a competition; it's a transformative experience that will ignite a fire within participants, challenging them to push beyond their perceived limits and discover their personal REDLINE. Since we launched early bird tickets earlier this month, the response and support has been phenomenal. We can't wait to feel the excitement, energy, and passion that our participants will bring to the Games come September," said Callum Meehan, Events Director of REDLINE.
"At NISSAN, we are more than just a car. We are also a mood enhancer, confidence maker and smile creator, allowing each driver to discover new excitements with every ride. As such, we are really proud to be part of this event as it reflects our commitment to deliver excitement and at the same time, promote a healthy lifestyle and encourage people to always continue to push their boundaries," said Christopher Tan, Sales & Marketing Director of Edaran Tan Chong Motor Sdn Bhd.
Make no mistake, the REDLINE Fitness Games Powered by NISSAN is a fitness competition unlike any other; providing individuals an exclusive opportunity to unleash their true fitness potential and take part in a truly immersive and engaging fitness spectacle.
This will be done through a meticulously crafted course consisting of 12 workout stations , from the heart-pounding cardio of the "Ski-erg" station to the raw power of the "Dead Ball Burpees", each station promises an immersive experience that will challenge every facet of your fitness. Engage your agility in the thrilling "Agility Chamber" and harness your explosive strength in the demanding "Sled Push". There will also be three NISSAN Red Zone challenges where participants can test their cardiorespiratory and muscular endurance.
But the excitement doesn't stop there! As part of the grand finale activation, the four strongest participants can also look forward to an adrenaline-fueled NISSAN Navara truck pull, a feat of raw power and resilience. These specially designed workout stations will test your physical and mental fortitude, propelling you to surpass your preconceived boundaries and reach new heights of achievement.
Participants can choose from a variety of thrilling categories to showcase their fitness prowess, including Men's and Women's Singles (open and competitive divisions), Doubles (Men's Doubles, Women's Doubles, and Mixed Doubles), and Team Relay (Men's, Women's, and Mixed with two men and two women). Regardless of your fitness level or preferred style of competition, there's a category that will challenge and inspire you to go above and beyond.
REDLINE Fitness Games Powered by NISSAN is proudly brought to you by its Official Presenting Partner, NISSAN. The event is also supported by FLY FM as the official Radio Partner, 100 Plus as the Hydration Partner, along with main partners such as Fitness First, Celebrity Fitness, CHI Fitness, Optimum Nutrition, Aviron Racing, Concept 2, and Savage Gears.
Tickets can be purchased at www.redlinefitnessgames.com and also look out for REDLINE's roadshows that are happening below: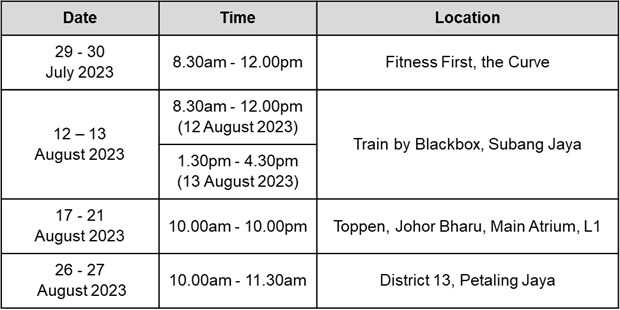 Sign up today and get ready to rev your engines and ignite your passion at REDLINE Fitness Games Powered by NISSAN!
-END-
About REDLINE and Fresh Events Asia
REDLINE Fitness Games is a new functional fitness event brand that is owned and operated by Fresh Events Asia Sdn. Bhd. REDLINE is the ultimate fitness race for gym-goers and fitness enthusiasts. Launched in 2023 in Kuala Lumpur, Malaysia, REDLINE is taking the local fitness race space by storm, with plans afoot for regional expansion across South East Asia in 2024 and beyond.
Fresh Events Asia, based in Kuala Lumpur, Malaysia also operates The Music Run™ and POWERMAN Malaysia. In operation since 2014, Fresh Events Asia have hosted over 50 mass participation events in over 15 countries to over 500,000 participants.
About Tan Chong Motor Holdings Berhad
Edaran Tan Chong Motor Sdn. Bhd, a wholly-owned subsidiary of Tan Chong Motor Holdings Berhad (TCMH), is the sales and marketing arm of Nissan vehicles in Malaysia. In 1957, Tan Chong Motors was appointed the franchise holder of Nissan/Datsun vehicles in Malaysia and Nissan/Datsun became the best-selling brand in the country in 1970. TCMH was listed on the Bursa Malaysia Securities Berhad in 1974. The group is principally involved in the assembly and distribution of automobiles. To complement TCMH's auto business, TCMH provides a wide range of services such as vehicle after sales, hire purchase financing, leasing, and insurance.
For media enquiries, please contact:
Tiffany Tan                                                                          Chuah Joo Ee
T: 03-2788 3157   T: 03-2788 3160
E: tiffany@tanchonggroup.com E: jooee.chuah@tanchonggroup.com