EXTRA PROTECTION FOR YOUR NISSAN
Tan Chong Insure (TCI) is a business division of TCMH and it is a leading professional insurance consultancy-based division that provide services in all classes of general insurance for individuals, families and corporations in Malaysia. In December 2020, TCI launched its very own digital platform named www.Goinsuran.com under the brand GoInsuran.
With proven capability and vast experience in offering and handling a broad spectrum of insurance services, TCI endeavor to create even more innovative product packages through deeper partnerships with esteemed principles to constantly meet customers' everchanging and evergrowing needs. Have you heard of Niscare, TC-GAP, TC Warranty Plus and our newly launched TC Jaminan Tambahan? If you haven't, well, you should. These products provide a comprehensive package and attractive value-add benefits to you and your Nissan.

A comprehensive insurance package exclusively designed and curated for Nissan vehicle owners that provides great benefits to ensure a complete peace of mind. Below is the list of coverage created for you and your Nissan cars to ensure that things are going to be okay in the event something unfortunate happens.
Agreed Value – Covers 100% of the recommended sum insured up to 20 years for Nissan vehicles in the event of Total Loss or Theft claim.
Additional Cash Payout – Customer will receive 20% additional cash payout of the sum insured or a maximum of RM3,000 in the event of Total Loss or Theft.
No Betterment Charge – Any replacement of new original parts cost will be waived for Nissan vehicles up to 12 years old. Repair work must be carried out at any Nissan authorized workshop.
Car Replacement Allowance up to RM450 for max 3 days – Customer shall be entitled to an allowance of RM150 per day, up to a max 3 days for the repair period recommended by Loss Adjusters in the event of own damage claim (excluding Own Damage – Knock for Knock).
24/7 RSA (Roadside Assistance) – Towing assistance up to RM400 per event to the nearest Nissan authorised workshop.
Policyholder's Personal Accident – Covers for the policyholder only against death or permanent disablement up to RM20,000 due to road accident.
Roadside Repair Services – Free labour costs up to 2 hours per event for minor repairs (jump start or battery replacement, change of flat tire and refill fuel). Any parts costs incurred shall be borne by customers.
Extended Breakdown Towing (03-4047 5223) in Thailand, Singapore & Brunei
o In the event of breakdown in Thailand, Singapore & Brunei, we will arrange towing services to the customer's preferred workshop. Towing costs shall be borne by the customer.
o We will arrange vehicle repatriation upon request. Costs shall be borne by the customer.
o Standard towing assistance up to RM400 applies for towing from Malaysia border to the nearest Nissan authorised workshop.
Accident Towing Assistance – we provide complimentary accident towing to the nearest Nissan authorised workshop from the incident location.
Genuine Parts & Paintwork Warranty – New genuine parts replacement is warrantable for 10,000km or 6 months, whichever comes first. Paintwork comes with a 12-month warranty.
Key Care Cover reimbursement up to RM1,500 – Reimbursement of the actual repair or replacement costs up to RM1,500 to the loss or damage of car key due to an actual or attempted theft, robbery or house break-in. The car key repair works or replacement should be carried out at any Nissan authorised workshop.
Flood Relief Allowance up to RM1,500 – Customer can be reimbursed an allowance up to RM1,500 in the event of car damage due to flood. Repair work should be carried out at any Nissan authorised workshop.
Window Snatch Theft compensation up to RM500 – Compensation up to RM500 for the loss of possessions placed in your car in the event that the windscreen or window is broken whilst you or your authorised driver were driving on the road. A police report must be lodged within 24 hours after the incident occurred.
All Drivers Coverage – The policy excess of RM400 is waived for an unnamed driver. Drivers under the age of 21 years or holding a Provisional/Learner driving license is not applicable.
Emergency Medical Evacuation Arrangement – In the event of a medical emergency, we will arrange for medical assistance through an ambulance or other transportation to the nearest medical.
Emergency Message Transmission – In the event of emergency, upon request from a customer, we shall endeavor to contact your family and keep them informed of your whereabouts.
Express Claim Approval – For damage claim less than RM30,000. Repair work must be carried out at Nissan authorised workshops.
Hassle-Free Claim Process – We are ready to assist you from claim submission until claim approval by the insurance company.
Trusted Nissan Service Centre & Body Paint – TCEAS Body & Paint Centre is a "one-stop" automotive repair centre. Equipped with advanced diagnostic equipment, highly sophisticated machinery and repair finishing products, a strictly no-compromise policy on excellent workmanship quality is enforced to ensure total customer satisfaction and confidence.
Windscreen Extension – You never know when rocks on the pavement will decide to take a hit at you. This extension covers the accidental breakage of your windscreen/windows. This will not affect your vehicle's NCD in the event of a replacement claim.
Special Perils – There are many environmental issues these days. This covers damage to your vehicle due to flood, windstorm, typhoon, volcanic eruption, earthquake, landslide or subsidence (Classified as Acts of God) will be covered as per the sum insured stated in the comprehensive motor insurance policy.
Legal Liability to Passengers (LLP) – This provides full coverage for the insured driver in the event legal action is taken against him/her by the passenger(s) due to any bodily injury that was caused due to the negligence of the driver. Please be aware that vehicles that are to be driven into Singapore would be required to have this coverage.
Legal Liability of Passengers to Third Party (LLOP) – This coverage is extended to the legal liability of passenger(s) in the event the passenger(s) of the insured vehicle caused any injury/damage to the property of the 3rd party. This covers bodily injury claims and claims of property damage of up to RM3 million – subject to individual policy terms and conditions signed when purchasing the insurance. This coverage is not applicable to commercial vehicles.
Strike, Riot & Civil Commotion (SRCC) – In this day and age where most topics can trigger someone causing a commotion, it's best to protect your vehicle. This coverage protects damage to your vehicle due to a strike, riot, and civil commotion. This is an additional coverage as an extension of your basic comprehensive motor insurance.
Frequently Asked Questions (FAQ)
It's always nice to be assured, even your car! TCWP is an extended warranty to your original Nissan' Manufacturer's Warranty (private use vehicle only). This extended warranty covers the repair or replacement costs of parts (including labour) of your vehicle caused by a sudden and unforeseen breakdown or failure of a mechanical or electrical part.
Benefits:
Premium from as low as RM1.37 per day
Affordable payment plan at 0% interest up to 12 months
One-time warranty fee for coverage up to 4 years.
Guaranteed replacement or repairs with TC approved spare parts for up to 7 years.
Preserved used car resale value as TCWP is transferable.
No inflation costs, as TCWP is purchased upfront.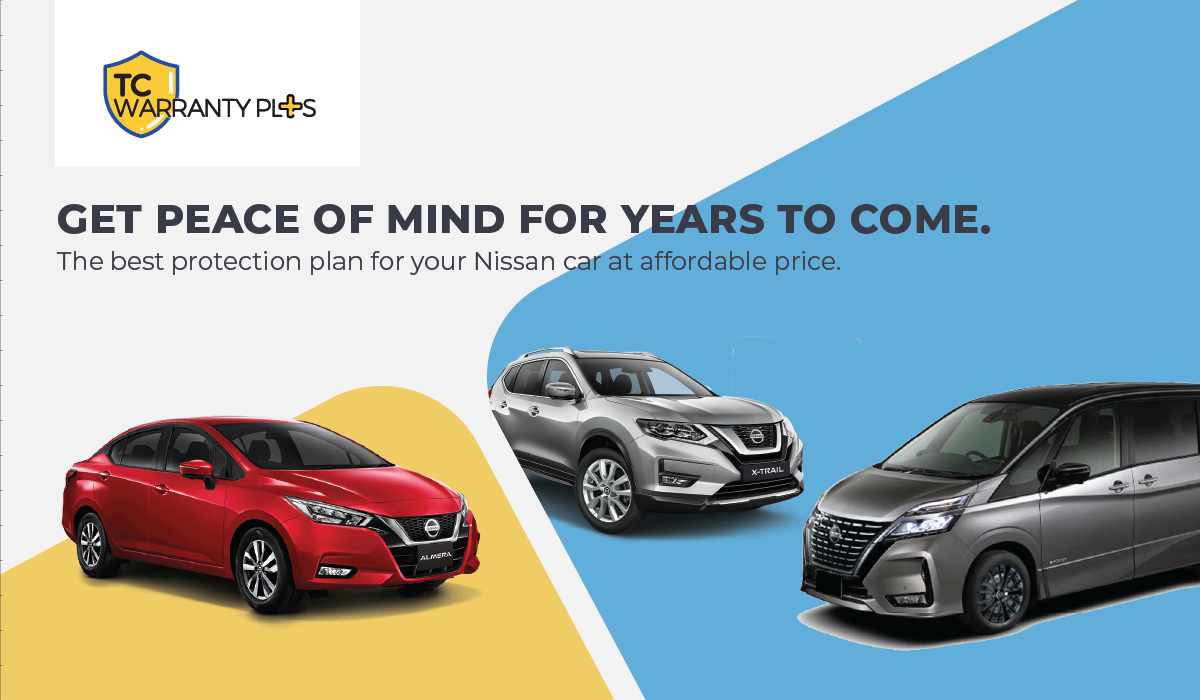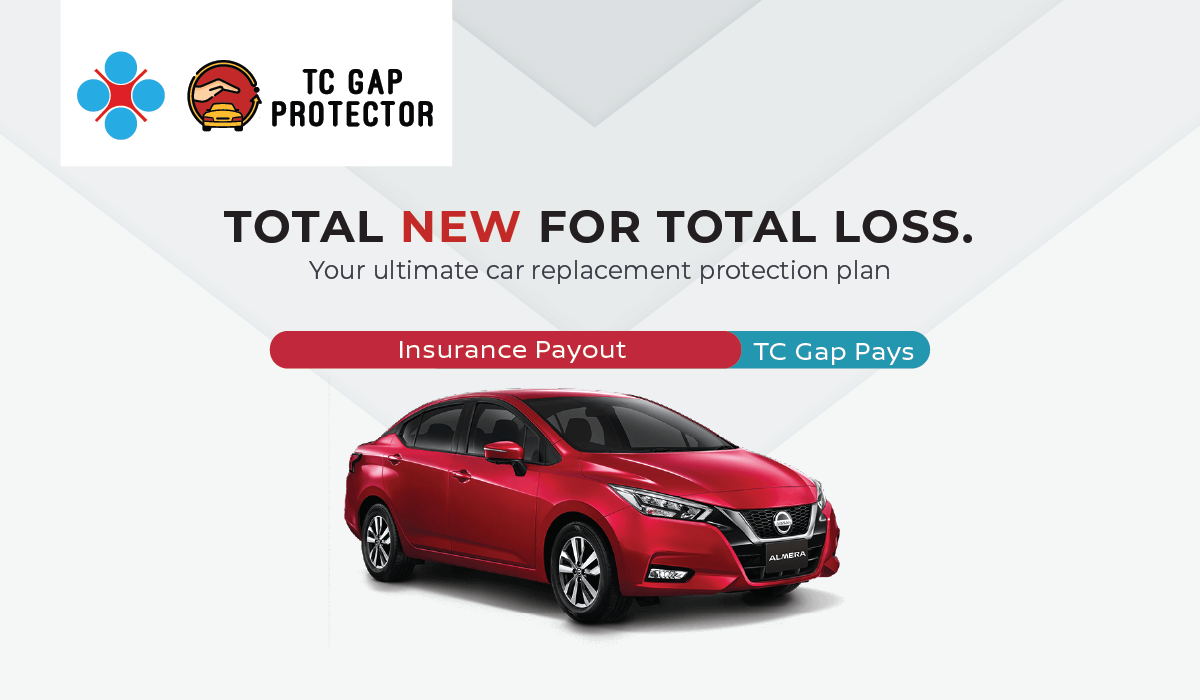 Close the gap to make it whole! TC GAP provides coverage for the financial gap between the amount received from your Comprehensive Motor Insurance Policy and the Vehicle Purchase Price in the event of a total loss of vehicle from accidental damage, fire, or theft. Exclusively for Nissan vehicle owners only.
Benefits:
One-time premium for protection up to 5 years.
Affordable premium from as low as RM0.38 a day.
Full indemnity up to Original Vehicle Purchase Price.
Hassle-free claim process and settlement.
Maximum claims payout up to RM140,000
TC JAMINAN TAMBAHAN (TCJT)
Introducing TC Jaminan Tambahan Plan – the plan that provides protection from unexpected car repair costs. Buying an extended warranty can give you peace of mind and make a service you can trust.
There are 2 plans to choose from; ADVANCE for new car where plan begin on the day you buy a car and RENEW plan for existing car where you can purchase the plan 6 to 12 months before the expiry of Manufacturer's warranty to reap the benefits.
You get to enjoy crystal clear packages at very competitive prices and there's no one-size-fits-all best extended warranty provider. Be insured and it's a good idea to get the right type of warranty cover for you. One-time premium for protection up to 8 years, subscribe it here.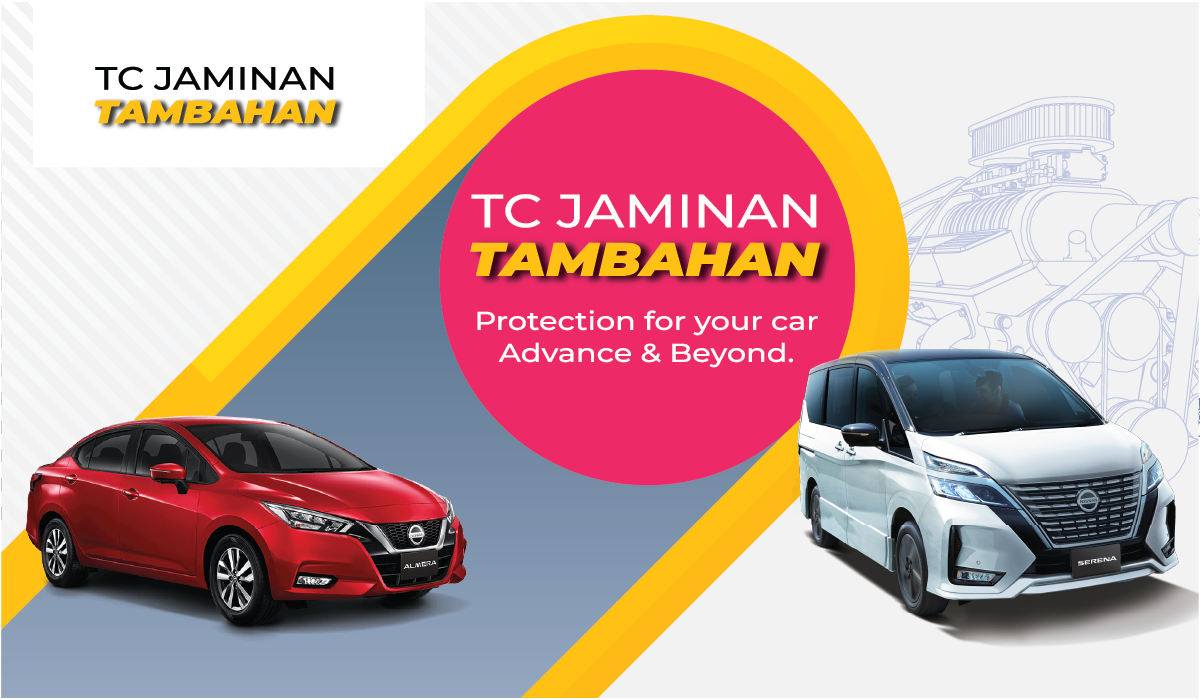 A new era of motor insurance renewal is here. GoInsuran.com provides prices comparisons at a glance from up to 14 insurers, live quotes, instant savings and deliver your road tax for FREE. Get protected with Niscare and renew your car insurance and road tax in as fast as 3-min. BNPL (Buy Now Pay Later) are now available, on top of EPP for you to renew easily with installment payment plan + 0% interest! Check out the latest promotions today!