Edaran Tan Chong Motor Sdn. Bhd. (ETCM) recently concluded its Nissan Almera Turbo Fuel Efficiency Charity Drive campaign; a fun challenge that encouraged Nissan Almera 1.0L Turbo owners to help make a positive impact on the lives of people who faced sudden hardship due to the COVID-19 pandemic.
Nissan Almera 1.0L Turbo owners actively submitted their outstanding fuel economy readings and a total of 12,841 KM was recorded. As the charity drive concept was 1KM=RM1, a total of RM 12,841.00 was accumulated and the amount will be donated to few charitable organisations. The receiving charity organisations will be announced soon. ETCM would like to thank all participants' efforts and good deeds in this charity drive challenge.
The top 20 winners will receive an exclusive Nissan GT-R by LEGO® while the next top 30 will receive a special edition Nissan Duffle Bag. ETCM will be contacting all winners for their prize delivery arrangement soon.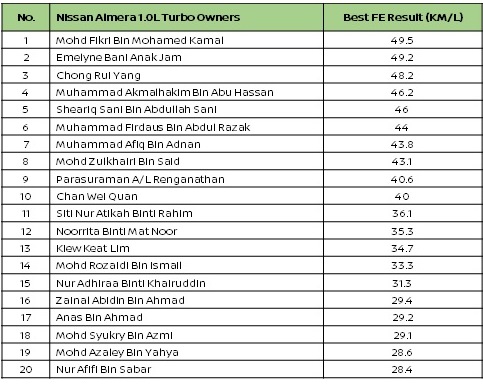 To top things up, the All-New Nissan Almera Test Drive & Win contest is back! 50 lucky customers will be rewarded with WATSONS vouchers worth RM 25,000 (RM 500 each) when they test drive the All-New Nissan Almera at any Nissan showroom or pre-arranged doorstep test drive.
Additionally, customers can enjoy an attractive 1.88% Hire Purchase Interest Rate when they purchase the incredibly fuel efficient all-new Nissan Almera 1.0L Turbo sedan, the mother trucker new Nissan Navara 2.5L pickup, the tech advanced Nissan X-Trail SUV or the family approved MPV Nissan Serena.
The all-new Nissan Almera 1.0L Turbo comes with free Urban accessories package worth up to RM 5,500 at a sales tax exempted selling price from RM 79,906, while the radically redesigned new Nissan Navara 4×4 2.5L Turbo is available from RM 116,900 with free Premium accessories package worth RM 10,150.
The Nissan X-Trail and Serena S-Hybrid are not to be missed too. The X-Trail with selling price from RM 139,643 comes with Aero Edition accessories package worth RM 5,000 and the Serena S-Hybrid is available from RM 140,226 with free 3 years maintenance service with parts and labour included.
For more information, please visit any Nissan showroom, log on to www.nissan.com.my or call Nissan Customer Care Centre Hotline at 1800-88-3838.
All terms and conditions apply.
STAY SAFE | STAY SMART | STAY STRONG
###